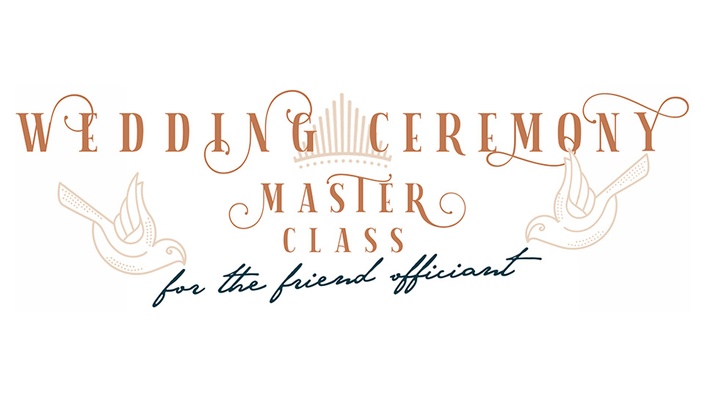 Wedding Ceremony Master Class
Taking Friend Officiants through my process of authoring and performing a simple, genuine, memorable and meaningful wedding ceremony.
Watch Promo
Enroll in Course
"I've cracked the code on writing and performing meaningful and inclusive 20 minute ceremonies, and every aspiring Friend Officiant will receive my tried and true, universally appealing, Starter Ceremony, with simple, straightforward and most importantly, non-gaggy language, so that they can use the bulk of their creative efforts making that ceremony personal, charming, and memorable for all the right reasons."—Alisa Tongg
Your Instructor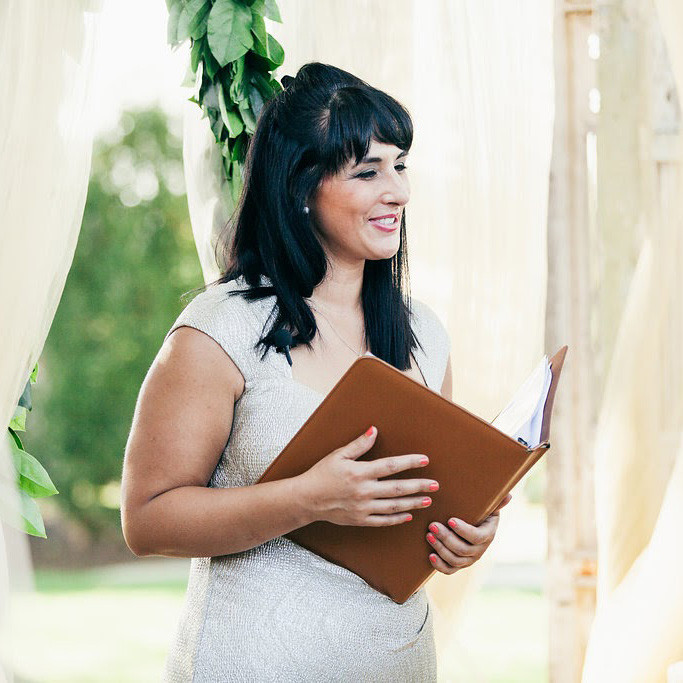 Alisa Tongg is an award-winning certified Life-Cycle Celebrant and ordained minister who has been creating and performing personal ceremonies for nearly a decade, with hundreds of five-star reviewed weddings.As a graduate of the Celebrant Foundation and Institute she studied and formally trained to become a ceremony expert for interfaith, intercultural and religiously unaffiliated couples as well as for blended families. Alisa Tongg is the first Certified Celebrant to be recognized as such in the New York Times Vows section, and she is leading the way, working together with lawmakers to update the marriage laws in Pennsylvania so that couples have a greater choice for a legally recognized personal wedding ceremony.
A glimpse into the curriculum
Some of the topics Wedding Ceremony Master Class for Friend Officiants will cover:
What's the REAL wedding? An overview of marriage licenses and why it matters to the Friend Officiant.
A look through the marriage laws of four representative states and suggested pathway for a lay person to officiate a legally recognized wedding ceremony. Alternative solutions for the Friend Officiant when an online ordination does not meet the qualifying legal requirements for an officiant.
A step-by-step walk through of Celebrant Alisa Tongg's primary tool for creating custom and heartfelt ceremonies, her Couple's Questionnaire.
Structural overview for Celebrant Alisa Tongg's Starter Ceremony for the Friend Officiant. And number one best way to ensure that your ceremony includes natural, authentic and non-gaggy language.
Starting the Ceremony, Welcome Announcement. What is an unplugged ceremony? How not to be a distraction to your friend's Gran.
The Processional—Celebrant Alisa Tongg explains what is and is not the responsibility of the Friend Officiant for one of the most universally symbolic aspects of the wedding ceremony.
Joining of Families--Celebrant Alisa Tongg's Starter Ceremony lays out ways for being inclusive of a couple's family and broader community of support. Explanation of how the Friend Officiant can weave in a remembrance for important loved ones who cannot be present, into the ceremony.
Readings: How to seamlessly include a reading of the couple's choice and how to introduce their reader in ceremony.
Starter Ceremony Script for the Legal Part of the wedding ceremony. How to add personal flair and the couple's love story in a way that is appropriate for a wedding ceremony. Learn what language needs to be in a wedding ceremony for it to be considered legal and what parts are negotiable.
The power of social contracts, and what is the best and most appropriate unity ritual for a Friend Officiant-led wedding ceremony.
Sending your friends off with a final blessing. Declaration of Marriage and how to set your friends up for a fabulous first kiss as a married couple.
Alisa Tongg shares how she prints and formats hers and what is the best thing to have in your hands during performance. Dressing for a celebration, finding your style and hacking your body for a boost of confidence.
How to work with one microphone on a stand for all ceremony needs. Your friends hired a film crew to make a movie of their wedding, what every Friend Officiant can do to ensure it will be an awesome one. The one simple thing you can do to make every wedding photographer love you.